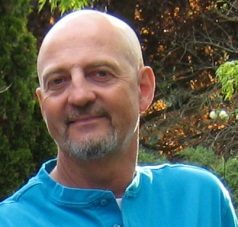 Dave Huff – Honours
B.A., BAT, CBP, Par.BP
Dave is a Certified BodyTalk Practitioner, PaRama Practitioner and BodyTalk Access Trainer. In 2010, Dave founded the Ontario BodyTalk Assocation and continues to consult as  Chairperson Emeritus. A former member of the International BodyTalk Association's Ethics Committee, Dave is highly respected for his support and contributions to the growth of BodyTalk.
From a very young age, Dave grew up with severe allergies and migraines for which traditional approaches provided no little to relief. As Dave's corporate success grew, so did the responsibilities, fancy titles and stressors. Irritable Bowel Syndrome crept in, his spine was compressing and the allergies had spread to include foods.
Despite a degree in Psychology, with a thesis in Stress Management, the idea of listening to the body for the solution was laughable.  Through a series of synchronicities, The BodyTalk System™ discovered Dave in 2004 and transformed his life.  Allergies- gone. Migraines- gone. IBS- gone. Corporate career – gone. Spirit- freed.
Dave's personal health challenges and ongoing fascination with the true nature of reality has led to understanding health from the perspectives of; Western medicine, Chinese and Vedic philosophy, Astrology, and Quantum Mechanics.  Dave continues to stay current with how to apply new discoveries in field including epigenetics, microbiome, and DNA torsion field communication. All weave beautifully into The BodyTalk System™.